Trying to think up the best wedding hashtags for you and your partner? Your wedding hashtag is a fun and clever slogan that not only represents your relationship, but also comes in handy in the digital space as your friends and family begin to share their memories from your big day online.
Essentially, wedding hashtags act as a creative way to sort your wedding memories on social media. Every time a guest uses your personalized tag, they're adding to your digitized memory book as images and videos begin to populate under your hashtag.
To ensure your wedding hashtag gets the most use, you'll want to create a fitting slogan that your guests will remember and want to use. Here are the top tips to accomplish just that!
Instagram story template : Share an eye-catching Instagram story with the help of Adobe Express. Use our free templates, images, and design assets to get started.
How To Create A Wedding Hashtag
A good wedding hashtag is all about personalization. You want your tag to reflect you and your partner's relationship, hobbies, and style. Start your creative process by writing down fast facts about each other and your relationship.
Write down your names, last names, nicknames, and pet names. Think of the hobbies you have individually and what you love doing together. Write down your favorite songs, movies, and video games, too. Then top off this initial list with your wedding day details such as your wedding theme, the venue, the date, or other facts.
Once you have a list of some initial facts, details, and hobbies, it's time to let the personalization process begin. This list can help inspire your brainstorming sessions. You never know what word, detail, or pop culture reference can end up making the perfect hashtag.
If you're looking to create wedding hashtags your guests are sure to remember, have some fun with the hashtag and don't be afraid to get punny. With that list of custom words and phrases in front of you, try thinking of clever expressions that use those keywords as puns.
Many of the best wedding hashtags out there stem from using you and your partner's names as puns. This is a great place to start. Try rhyming your last name with other words and think up phrases you can substitute your last name into.
Capitalize The First Letter Of Each Word
To make sure your wedding hashtag stands out, be sure to capitalize the first letter of each word. Longer hashtags with many words can look jumbled and overwhelming when written out. You want your guests to easily understand your hashtag so they'll want to use it. Capitalizing in this style will make your tag easier to read.
Perhaps as you're brainstorming punny and silly phrases, you're getting stuck on how to cleverly incorporate your names. If you're struggling with your first or last name, try using a nickname or pet name instead. You want your hashtag to be personalized to you, so any meaningful nicknames you two have can be effective alternatives to your full names.
If your tag is incredibly basic or not very catchy, your guests will be less likely to remember it and thus less likely to use it. To make your tag catchy, try using rhymes or alliteration so it's fun to say and easy to remember.
Stay Away From Hard To Spell Hashtags
Creating and spelling out wedding hashtags can be tricky. Try keeping the spelling of your hashtag simple and avoid words or phrases that may be tricky to spell, including tags with many repeating letters.
You want to ensure all your guests can easily spell your hashtag correctly so all your memories remain properly organized on social media.
Get Inspiration From Common Phrases Or Pop Culture
Putting a fun twist on common phrases can be the key to crafting the perfect hashtag. Reference idioms, traditional wedding vows, song lyrics, movie quotes, or other phrases from pop culture to help inspire your wedding hashtag.
Have Your Friends & Family Read Your Hashtag Out Loud
After all that brainstorming, perhaps you and your partner have finally decided on the hashtag for you. Now's a great time to share your hashtag with your close friends and family. Have them read it out loud to gain some new perspectives.
You want your friends and family to have positive reactions to your hashtag. If they can easily read it correctly the first time and understand its meaning, you've likely found yourself a winner. However, if they are struggling to understand or pronounce your hashtag, your other wedding guests are likely to be just as confused. If this is the case, it might be best to workshop your idea a bit more until it's simpler and catchier.
Hire A Professional Hashtag Writer
Perhaps you and your significant other are still struggling with the wedding hashtag ideation process. Maybe your names are a bit tricky or you simply haven't fallen in love with the ideas you've come up with. If you're looking for a little extra help in the creativity department, it might be time to hire a professional hashtag writer.
Pro wedding hashtag writers do in fact exist, and with thousands of hashtags under their belt, they can help bring your wedding hashtags to the next level with that personal touch you need. These pro writers may request a few details about your relationship and wedding, but with these elements in mind, they can send along a list of custom hashtags tailored to your one-of-a-kind relationship.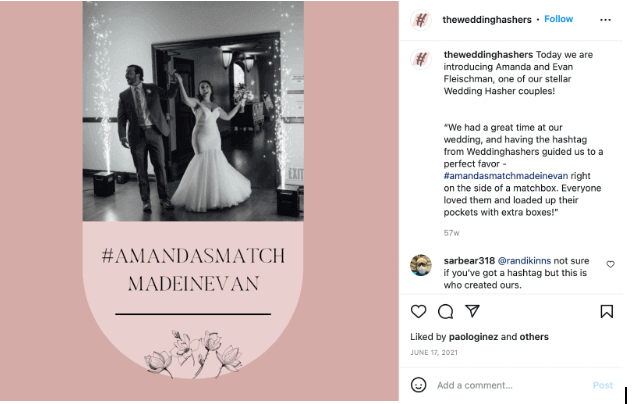 Get Your Guests Excited About Your Tag!
We hope that these tips will come in handy as you and your partner begin to brainstorm and create your ultimate wedding hashtag. Once you've settled on the perfect one, it's time to start putting it out to the world.
Get your guests excited about using your wedding hashtag early on by announcing your tag on social media, on your invitations, on your wedding website, and other places. The more times you use and reference your tag leading up to your wedding day, the more likely your guests will be to remember it. Let the hashtagging begin!