Just engaged? Congratulations! It's time to start the long-anticipated planning process for your big day. If you're planning your wedding for 2023, you'll need to start thinking about your wedding stationery, from save-the-date cards to the all-important wedding invitations. 
But where do you begin? Themes, colours, foiling, paper type… there are a lot of choices out there. To help and inspire your wedding planning, we've looked at some wholesome wedding stationery trends set to be popular in 2023.

Take note and add your own personal touch to your wedding stationery, providing a memorable souvenir of your wedding for friends and family alike. 
Monogramic Minimalism 
Maximalism is out, minimalism is in. From fashion to interior design, stripping it down to basics is making a comeback. Next year, minimalism is expected to still be popular in the design world, which you can incorporate into your wedding stationery designs. 
An emerging trend is to have your and your partner's initials as a chic monogram at the top of your stationery. Interweave the letters together, or subtly print your first names underneath to achieve an understated, clean aesthetic. 
Glorious Glamour
Just take a look at the 2022 Met Gala, and you'll see many celebrities giving us the Great Gatsby. Minimalism might be making a return, but so is the glitz and glamour of the 1920s, particularly when it comes to weddings. Post-pandemic, many people have been waiting to have their wedding where a lengthy guest list and partying is finally allowed, phew! 
Many couples choose to move away from traditional pastels to metallics and sparkles. Ultimately, your wedding is a celebration! Select a neutral colour palette for your wedding stationery and add splashes of gold or silver with foiling techniques. Your wedding is a special occasion, so give your guests a little "wow" factor before your big day.
Hand-Painted Foliage & Illustrations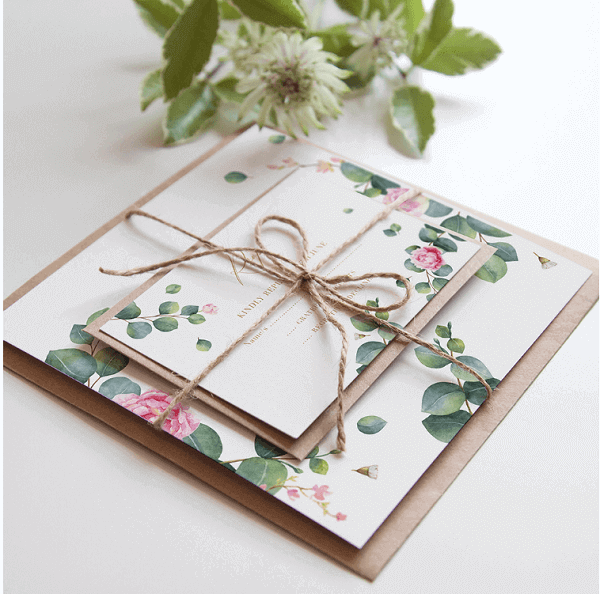 For centuries, flowers have been associated with meaning. In fact, floriography is its own form of communication, popularised by the Victorians. Red roses, Chrysanthemums and Forget-Me-Nots all have a place in the love language of flowers. And they're never going to be out of fashion when it comes to wedding stationery. Hand-painted, subtle, romantic foliage is always an elegant choice, offset by twirling, detailed leaves and vines. 
Hand-sketched illustrations make your wedding stationery seem unique, providing recipients with a beautiful keepsake to remember your happy day. The illustrations can take any form, like your wedding venue or perhaps a sketch of you and your partner — the more personalisation, the better. 
A Transition to the Dark Side
Light, delicate colours will always be a popular choice for wedding stationery. Brides wear white due to the association with purity and virtue, but now we're moving away from the traditional wedding theme. Humanist ceremonies are becoming increasingly popular as couples endeavour to add a personal stamp on their special day. 
Darker colours, like navy and pine green, are progressively making their way onto the wedding stationery scene. Incorporating the glamour of metallics, darker colours offset foiling to a stunning effect. More and more couples are looking to make a statement with their stationery, mixing and matching colours to represent their personalities and their relationships. 
Shape It Up
A continuing trend in wedding stationery designs is to use differently shaped invites and cards. Squares, tri-folds and geometric shapes allow you to have fun with your wedding invitations and set you apart from the rest. 
Aside from the shape of the card, adding little touches like wax seals and ribbons is also in favour. Opening a wedding invitation is becoming more of an experience than ever. Keep your envelopes closed with a personalised wax seal or silk ribbon, and embellish your invitations with a dash of character.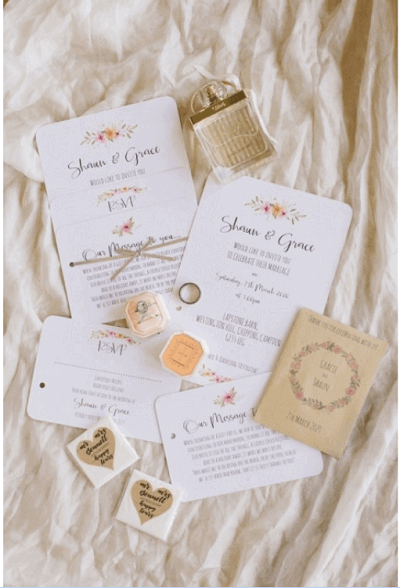 Your Wedding, Your Rules
Your wedding is an intensely personal moment for you and your partner. It's up to you both to be part of the wedding stationery design process. You can be inspired by some of the ideas here, or you can do it your own way, it's your wedding! Consider stationery designs which best represent your relationship or the chosen theme for your wedding, and enjoy the process. It's a life event after all. 
Author Bio: Vintage Prints design and produce top-quality, bespoke and vintage-inspired wedding stationery, from Save the Date cards and Wedding Invitations to On the Day stationery such as menus and table plans.