Your bridal suite isn't all that different from a war room before the NFL draft. Well, outside of the fact that you've only got one prospect you're about to commit to (hopefully). Regardless, the metaphor holds.
You want everything you need to be prepped to be in one place so you can concentrate on the task at hand. You spend time crafting the perfect plan ahead of time and making sure that, when the day comes, you're ready. A well-laid plan is going to go far when it comes to minimizing wedding day stress, so spend the time now to get your bridal suite ready — you'll thank yourself when the day comes.
Adventure Elopement Photographer dedicated to intentional experiences. Based in Utah, traveling all over the West and beyond.
1.A Good Set of Bridesmaids
You can't buy this one at Target — sorry. However, a set of bridesmaids you trust will go a long way. Maybe you get settled in and realize you forgot bobby pins, or you forgot your bridal jewelry. If you've got a solid team around you who can handle all the extra things, it'll be much easier to stay in the moment. If you'd trust them to hold onto your unique oval engagement ring while you prep, you've got a good team around you. 
2.Liaison 
This is really just a fancy word for someone who's not in your bridal suite who can communicate between the venue and the bride — sometimes called a Lady in Waiting. Could you just text? Probably, but you really want to be focused. Designate someone outside of the bridal party, if you don't have a wedding planner, to take on this job. 
3.A Good Mirror
Large and floor-length, if possible. You want a full-length mirror to see every possible angle so you don't miss anything as you prep. Good lighting goes hand in hand with this. You could have a mirror that takes up the whole wall, but it's really going to be sub-optimal if you don't have the lighting to let it work its magic.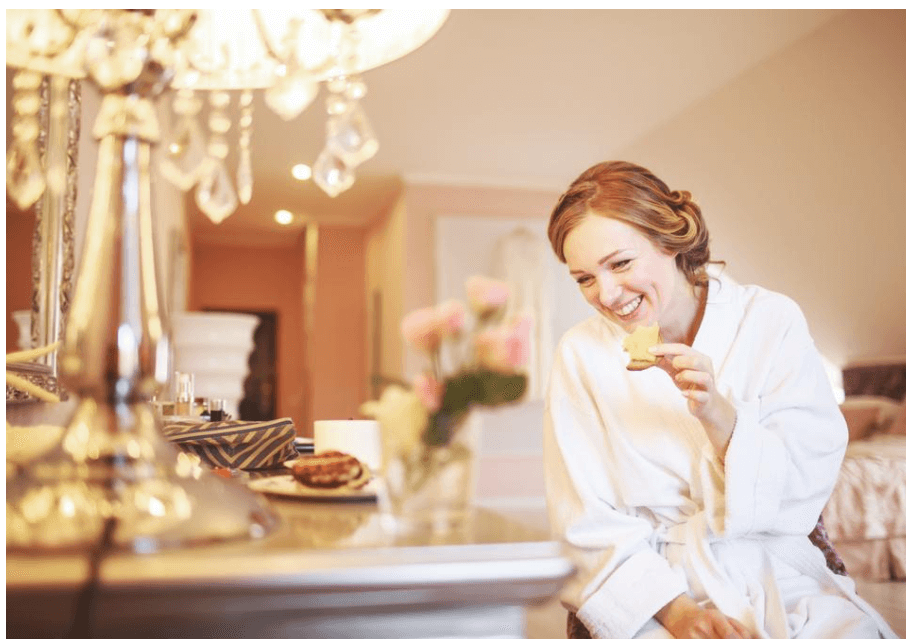 4.Snacks and Drinks
What you're drinking is up to you, but try to incorporate some water here and there. In terms of snacks, go for light and simple snacks that won't make a mess. Family-sized bags of Cool Ranch Doritos might have to stay on the shelf for the day (or at least until after the ceremony). If it could stain anything, let's hold off on it. 
5.Hygiene Products
You want to be prepped for anything, so make sure you've got a full hygiene kit (even if just a travel-sized one) on hand and ready to go.
6.Robes
It feels like every photo of a bridal suite ever is filled with women in robes, but it's for good reason. You want to put on your dress at the last possible minute, so you minimize the risk of even the slightest bit of damage. 
7.Steam Iron
Also just called a steamer, you want one of these on hand in your suite. You don't want an iron, though; it's going to be a bit harsher, and you aren't going for crisp lines here. A bit of steam will get the wrinkles out, and you'll be good to go. 
8.Hangers
To go with your steam iron, you want hangers for your dress (and everyone else's, of course) too. Ideally, you don't want to have to touch your dress with the steam iron if you have time to let any wrinkles simply fall out. Small Command hooks are also great for organizational purposes or keeping toiletries kits hung up and easy to grab
9.Fans
You'll have plenty of them waiting at the venue already (bad dum tss), but you want at least a small one in your bridal suite. Adrenaline is very likely to be going through the roof here, so you want to do what you can to control your body temperature. 
The thermostat is also your friend, of course, but small portable fans can be deliberately pointed at you for maximum cooling. If you like, you can grab a battery or USB pocket fan to have on hand at all times (though you might want to leave it behind at the altar).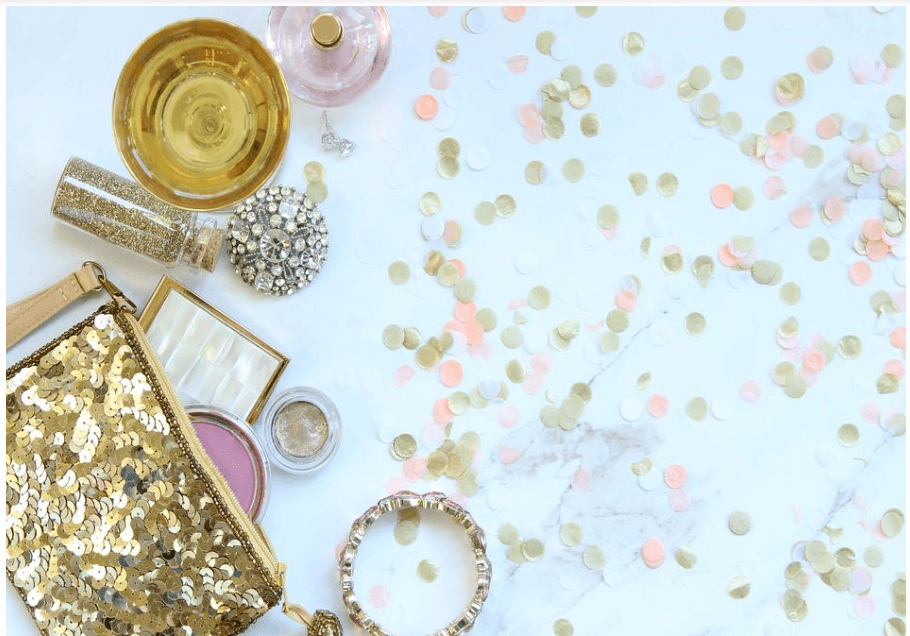 10.Emergency Kit
Your emergency kit tries to anticipate all the small things that could go wrong. It'll likely include a small sewing kit, extra buttons, laces, etc. This is also a good place to put extra toiletries if they didn't fit in your hygiene kit.
11.Comfy Shoes
Flats or flip-flops work really well here, but if you've got a beloved pair of Converse or Keds, by all means, use those. You want something you feel comfortable moving in so you can save your heels or other formal wear for the last minute, along with your dress.
12.Speaker
You don't have to be full 80's montage here (though we sure won't stop you), but having some music you love in the background is going to boost the mood and help keep your nerves in check.
13.Chargers and Chords
Last but certainly not least, make sure you've got all your charging needs covered. You want to start the day with a full battery, but if the bachelorette party went late and a bit wild, causing you to forget to plug in your phone, you're still covered. A power bank is helpful, too, especially if you plan to take lots of photos and videos.