Choosing the perfect engagement ring can present quite a challenge, even for the most prepared couple. From cuts to colors and carat weight, how can you be sure you are making the right decision? Whether you're browsing online for inspiration or shopping with your beloved, it helps to know a few crucial aspects of engagement rings before you begin.
Finding that dream ring might sound complicated, but you can't go wrong by following the four Cs: color, clarity, carat, and cut. These stats help establish an engagement ring's price and quality. 
Personal style and preference should always be the biggest indicators of the perfect ring, but this guide can help you determine whether your investment is a wise one that will stand the test of time. 
What Are the Four C's of Diamonds?
Cut
A diamond's cut goes a long way in determining price. The quality of a diamond's cut is determined by several factors: how well the diamond is proportioned, faceted, and polished. These traits all dictate how the diamond will react with light, also known as its brilliance. Remember that a diamond's brilliance, or how much it shines, is determined by a stone's cut alone.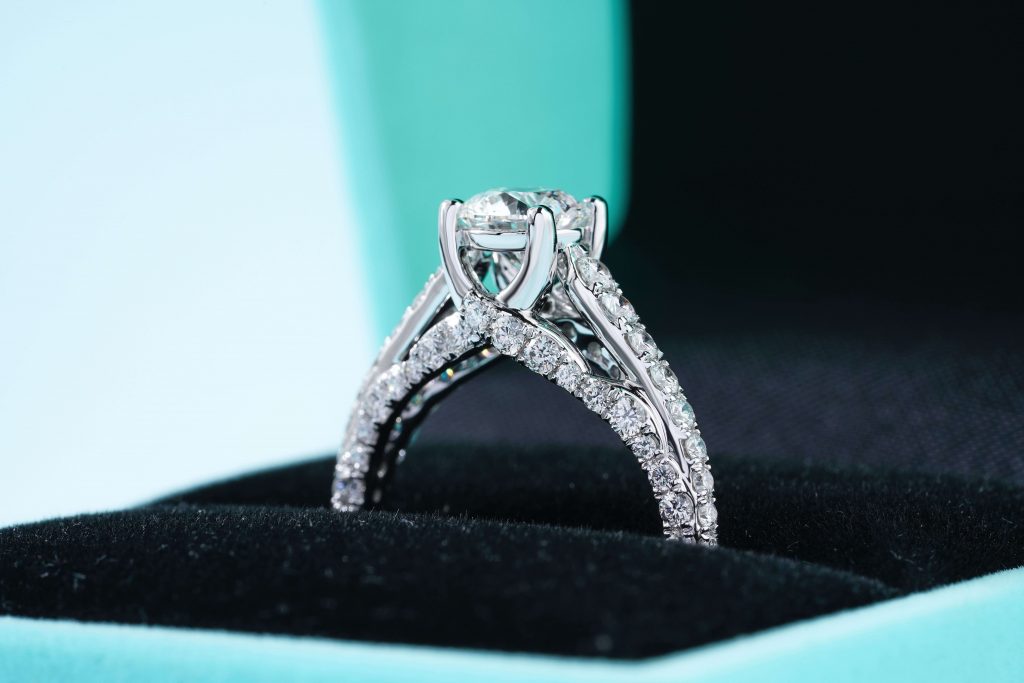 According to the Gemological Institute of America (GIA) grading system, there are four grades for a diamond's cut: Excellent, Very Good, Good, Fair, and Poor. As a rule of thumb, opt for a diamond cut that carries a grade of excellent or very good, if possible. The good news? Since cut grade isn't a large determining factor of a ring's total cost, finding a high-grade cut may not cost as much as you think.  
Color
Color is another factor that can determine an engagement ring's quality and pricing. Typically rated on a GIA scale of D–Z, it's said that most standard diamonds typically land somewhere between G and J. Completely colorless diamonds, for example, boast a D-F grade while diamonds with a Z rating are those with a light yellow hue. Colorless diamonds, unsurprisingly, are among the priciest of the bunch.
Some features, like the diamond's shape, can also play a role in its rating. For example, a brilliant round diamond may gleam so much that it hides color imperfections. On the other hand, more elongated shapes can show more of the stone's tint.
Clarity
This C stands for clarity, meaning the natural imperfections found within a diamond. Also known as inclusions, grading depends on whether these imperfections can be seen by the naked eye. Diamonds that follow the GIA grading scale range from Flawless (FL) to Included (I).
But imperfections in a diamond aren't necessarily visible to the naked eye. This is why diamonds don't have to have to be at the top of the scale, with a Flawless or Very Very Slightly Included (VVS) rating to appear perfect. When shopping for rings, what really matters is how "eye-clean" the diamond is. While diamonds can boast different grades, there may be circumstances in which a Slightly Included diamond and a Very Very Slightly Included diamond with the same carat, cut, and color can appear nearly identical. The cost, however, can vary by tens of thousands. This is where knowledge of clarity becomes very valuable. 
Carat
Considered by many experts to be the most crucial, the final C stands for carat. Diamonds, and some other gemstones, are weighed in carats as opposed to measured by size. Typically, the larger the stone, the higher the carat weight but that is not always the case; some diamonds have deeper pavilions while some are more shallow with a larger surface. Both of these factors have an influence on carat weight.
One carat is divided into 100 points, with one carat equal to 0.2 grams. While a stone might weigh a certain amount, the quality of the cut and shape of the diamond can influence your perception of its size. While it can be tempting to reach for the stars, don't get too hung up on carat weight. This is merely a guideline that accounts for the weight of the stone, not its actual proportion and appearance when worn. 
Shopping for an engagement ring is an exciting time for any couple. Arming yourself with knowledge of the four Cs before shopping, you'll have the tools you need to make a wise decision about your ideal engagement ring.
Final Words
No wedding is ever complete without a ring. A ring is that prerequisite that binds two people in a whirlpool of love, security and bliss. However it is important to take care of the 4 C's before shopping for your wedding band. Also, don't forget about making the right choice for a 
men's wedding band
. After all, it's their big day too.