There's a lot of pressure that comes with proposing. You want to make sure you have the timing down just right. You'll need the perfect setting, whether it's at a restaurant, on a beach or in a park. (Don't forget your alternate plan in case the weather doesn't cooperate!) And then, of course, there's the ring. 
In addition to all the proposal logistics, you also need to save up money to purchase an engagement ring. And once you've determined your budget, where do you go? And what do you look for to ensure you're getting a high-quality engagement ring that will last until eternity? 
Have no fear! With a bit of guidance you can alleviate some of those pre-proposal engagement ring shopping worries. And the internet makes it much easier to do your homework ahead of time, from scouting out the best jeweler to browsing engagement ring styles at your leisure. With that in mind, here are seven simple — but important — considerations on how to buy an engagement ring before you officially begin the shopping process. 
Know Your Budget Before You Go 
In the past, the old "rule" of thumb was saving up at least two months' salary to put toward an engagement ring. Fortunately, rules are meant to be broken, and you can find a good-quality ring at lower price points. I.e., you don't have to break the bank or go into debt over an engagement ring. Whether you're in the market to spend $500 or $5,000, you'll want to take a look at your finances before you begin the shopping process. If you're planning on buying a 2-carat diamond ring, for instance, but you don't necessarily have the money to afford a natural diamond, look for lab grown diamond options that can give your budget a bit of a breather. The same goes for settings or metals. Choosing a white gold engagement ring over a platinum band will also lower the cost. 
Research Jewelers & Read Reviews
Online reviews are a great place to start when looking for jewelers in your area. They'll give you a good indication of who you do — and don't — want to do business with. In addition to favorable reviews, you'll want to find a reputable jeweler who's been in business for more than a few years and who offers warranties and exceptional customer service. Also look for certifications, such as from the Gemological Institute of America or Jewelers of America, so you know you're buying from qualified professionals backed by trusted institutions.  
Understand Your Partner's Ring Preferences

You may know your partner better than anyone, but do you know the type of ring they prefer? You can choose from a range of options, from princess-cut diamonds and plain bands to a birthstone-inspired engagement ring or a three-stone moissanite ring. Not sure of your partner's ring preferences? Just ask! Or, more likely, they'll take you to a jewelry store to try on styles or pull up a picture and show you exactly what they like beforehand.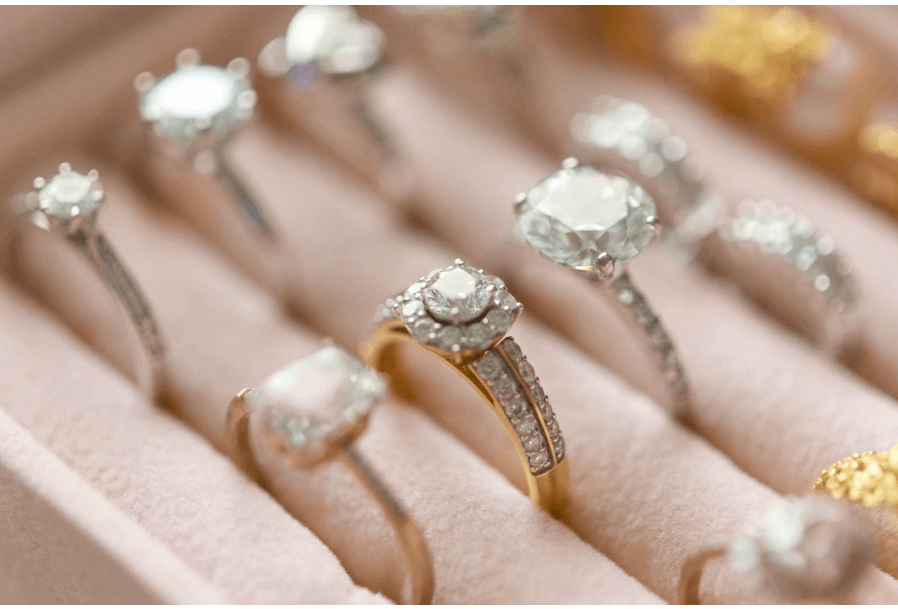 Think About the RingSstyle & Setting

You've set your budget, found a jeweler and at least thought about a type of ring. Now you have to narrow down an engagement ring style. Is your future spouse someone who transcends trends, sticking to classic wardrobes? A sophisticated solitaire diamond is a timeless choice. Are they more of an old soul that loves antique stores and used bookstores? They may gravitate toward an Art Deco, vintage-style ring. Is your fiance'-to-be the consummate shopper on the cusp of fashion? Go with something modern and fresh, like a cushion-cut center stone with diamonds surrounding it, in a rose gold setting. 
Consider the 4Cs of Diamond Quality

In the process of selecting a diamond you'll have to take into consideration the cut, color, clarity and carat. These four characteristics offer insight into the quality of your diamond. Cut determines the brilliance and sparkle of the stone; color grades tell you how much natural color the diamond contains; clarity signifies any imperfections or inclusions in the stone; and carat is the weight of the diamond. All of these factors will determine the price of the engagement ring. A colorless or near colorless diamond with very slight inclusions and a larger carat size will cost a lot more than, say, a smaller, slightly yellow diamond with imperfections visible to the naked eye.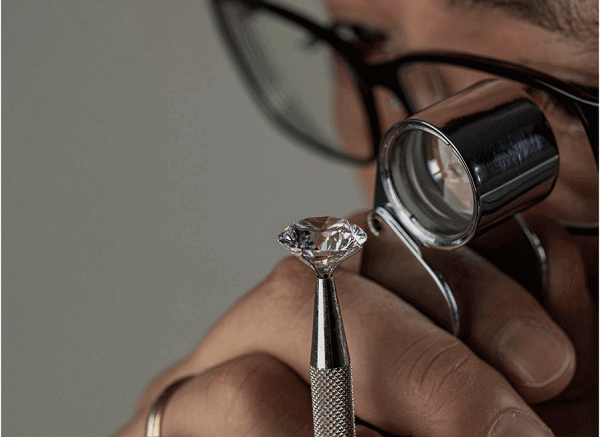 Choose the Right Metal for the Band

Yellow or white gold, platinum, rose gold, sterling silver and sterling silver are just a few of the engagement ring band options you have when ring shopping. Choose a metal that complements your significant other's skin tone or a metal they most often wear when it comes to jewelry. Sterling silver is a good, durable option for those that work with their hands or are hard on their jewelry. Platinum is a long-lasting option that doesn't require much in the way of maintenance, while white gold may need occasional replating. 
Don't Forget About Insurance & Maintenance
You've invested time, effort and money into purchasing the perfect engagement ring. Protect that investment by insuring the ring. Your insurance agent can give you guidance on how to get a ring appraisal from your jeweler and whether to take out a separate jewelry policy or increase coverage under your renters or homeowners insurance. Be sure that your jeweler gives you clear care tips for any ring you buy. Tips may include regularly checking the setting for any loose prongs, polishing the metal to retain its luster or cleaning dirt out of the setting grooves with a small brush. Some jewelers also offer ongoing ring maintenance or inspection plans you can purchase at the time of ring buying. 
Engagement ring buying can seem intimidating if you're a first-timer when it comes to buying jewelry. Doing a bit of prep on how to pick an engagement ring, however, ensures a smooth buying experience that'll have you as confident as the actual proposal.