Your wedding colors are integral to your overall wedding theme. You wouldn't have much of a house if you forgot to put in the foundation, would you? Granted, if you forget to put in a foundation, you probably shouldn't be building your own house. You shouldn't be building anything, for that matter, but we digress. When you're thinking about your wedding theme, keep an eye on these sets of fall 2023 colors.
Wait, Do I Need a Wedding Theme?
Well, no. It certainly doesn't hurt, though. Really, all you need is the two of you, an officiant and your rose gold wedding rings. Technically, you don't even need an officiant in eight states and the District of Columbia, so even that part's optional.
A wedding theme isn't crucial, and if you really don't feel like putting in the work to create one, it's not going to make your marriage any less valid. It's just a nice touch that allows for a cohesive feel throughout, and a well-constructed wedding theme is quite a nice experience for the guests there as well. You don't need one, but you do likely want one. That's what we're trying to say.
How to Choose a Wedding Theme
All roads lead to Rome, ya know? Maybe that's not the most applicable phrase here, but it kind of works. The general idea is that there's no one right way to pick a wedding theme. Maybe it's a color you like, based on a place that's special to you, or it's themed around your favorite comic book series. That's really up to you.
If nothing else, you can start with the rings you're wearing for the occasion. Looking at a sleek and modern men's black wedding band? Generally, though, there are a few ways to go about choosing a theme that'll make life simpler. 
First: You Want to Be Specific
You want to dial in something that's both unique and recognizable. That doesn't mean you have to theme your wedding around a time in history or a certain movie. It just means that the theme has to be unified and simple enough that your guests don't have to guess at it. 
Your theme can be something as simple as "Oh, this wedding theme is all about earth tones." It can be as complex as "Wow, this wedding is themed around each Christopher Nolan movie sequentially." Maybe skip Oppenheimer if you're doing the whole Christopher Nolan thing.
Second: You Want to Commit
The only thing worse than no theme is a vague theme. You know that awful guessing game you have to play when the costume is super generic? Those shouldn't both be plausible options. You know how it is. Commit top-down to the theme.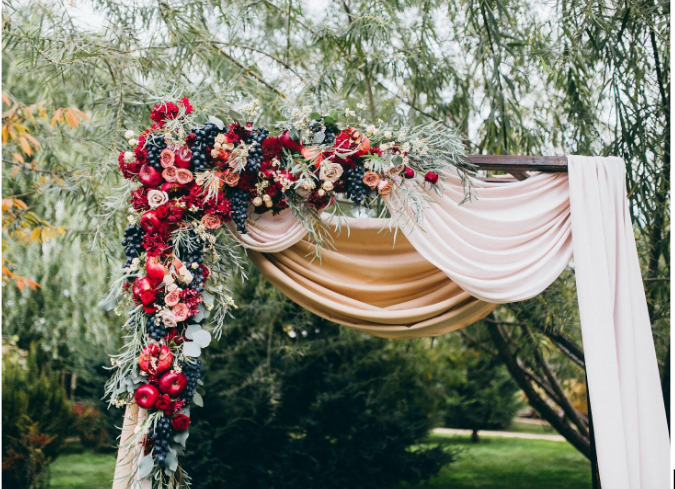 Third (and Final): Lead with the Color Scheme
This is especially useful if you're not sure about a theme. You may not know what theme you want to use for your wedding, but you know what colors you like. Hopefully, you also know what colors look good on you. Using those two pieces of information, you should be well on your way. If you know you want to go modern and minimalist, a Wes Anderson theme immediately goes out the window. See where we're going with this?
Wedding Colors for Fall 2023
Now that we've covered the basics of creating a wedding theme, let's dive into some popular colors we expect to see this upcoming season.
Blue and Orange
No, not like Syracuse. Think navy blue and a pale and generally more subdued orange. Those will make you look classy. The bright blue and orange will make it look like your wedding is Denver Broncos themed. If you like that, though, go bright.
Rust
It may sound weird to have a rust color palette, but rust and its complementary, adjacent colors are really popular right now. Think about rust with oranges and browns that are similar. Add in a couple of neutrals, and it's basically every Millennial coffee shop you see on Instagram. No hate — it's a great look.
Gray and Burgundy
This is a classic combination in menswear, and you can expect to see it extend into the wedding scene this fall. It's just minimalist enough to be pleasing, and the pops of burgundy (if done tastefully) keep everything sophisticated without being boring.
Gold and Deep Red
Think about a more muted gold with a red that's like your favorite hue of Cabernet. That deep red is really going to complement the gold nicely, especially if it's more matte than metallic. You can do some metallic gold accents, maybe, but the matte is going to be much more popular this fall.
Brown and Green
Look for sophisticated and deeper greens in this one. Think like Wizard of Oz, Emerald City kind of green. The brown can come in several shades, but warmer and lighter ones are going to make everything feel a little homier.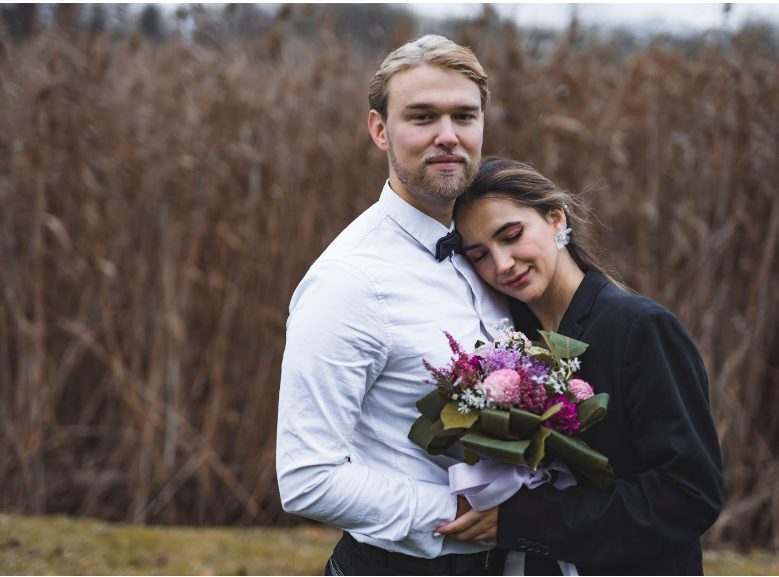 Plum
This is a bold enough color to stand on its own, so expect to see plum complemented by neutrals throughout but no other bold colors going with it. At simpler weddings, especially later in the season as we get towards winter, expect to see more plum.
Fall for These Stunning Colors
Hopefully, you've got some inspiration to work with. Even if you aren't getting married this fall, you'll get to feel like a sophisticate by knowing all the color palettes and why they work.