Nashville, Tennessee, a city known for its vibrant culture and rich musical heritage, has become an increasingly popular destination for couples seeking to tie the knot in style. In the heart of this enchanting city, where historic charm meets modern elegance, choosing the perfect wedding venue is a decision of paramount importance. 
We understand that selecting the right setting for your special day can be a daunting task, which is why we've curated this guide to the top 5 downtown Nashville wedding venues. 
Whether you desire an industrial-chic atmosphere, a historic mansion backdrop, or awe-inspiring views of the cityscape, these venues have it all. Let us delve into the enchanted world of downtown Nashville wedding venues that will make your big day an unforgettable occasion.
The Bridge Building
Nestled on the banks of the Cumberland River, The Bridge Building stands as a testament to Nashville's industrial history and its contemporary renaissance. This iconic venue marries history and modernity in perfect harmony, offering couples a unique backdrop for their wedding festivities.
The Bridge Building's standout feature is undoubtedly its rooftop terrace, which provides breathtaking panoramic views of Nashville's skyline. As the sun dips below the horizon and the city lights begin to twinkle, this rooftop setting transforms into a magical space for ceremonies or receptions. Imagine exchanging vows against the backdrop of the shimmering cityscape—it's a moment that will leave an indelible mark on your special day.
The interior of the venue features an industrial-chic design comprised of steel beams and expansive windows that flood the space with natural light. This aesthetic allows for versatile wedding décor, ranging from rustic to modern, and serves as a canvas for your unique vision.
Whether you're planning an intimate gathering or a grand celebration, The Bridge Building's flexible event spaces can accommodate your needs. With its historic charm, modern amenities, and unparalleled views, it's no wonder this venue is a cherished choice for couples seeking a downtown Nashville wedding venue like no other.
The Horton Building 
The Horton Building, located in the heart of downtown Nashville, offers couples a unique and versatile venue with an urban-industrial ambiance. This historic gem has been meticulously renovated to serve as the backdrop for your dream wedding.
One of The Horton Building's standout features is its adaptability. Its spacious and open layout allows you to design your wedding exactly as you envision it. Whether you dream of an intimate gathering or a grand celebration, this venue can accommodate your desires.
The venue's industrial charm is a nod to Nashville's history, featuring exposed brick walls, high ceilings with wooden beams, and large windows that let in plenty of natural light. This rustic backdrop provides an ideal setting for couples looking to infuse their wedding with a sense of urban chic.
The Horton Building's prime downtown location ensures that your guests have easy access to Nashville's vibrant nightlife, allowing you to continue the celebration after the festivities conclude. It's the perfect choice for couples who want to immerse themselves in the city's energetic ambiance.
Whether you're planning a contemporary, rustic, or eclectic wedding, The Horton Building provides a versatile and inviting space that can be tailored to your unique vision, making it an exciting addition to Nashville's wedding venue scene.
The Bell Tower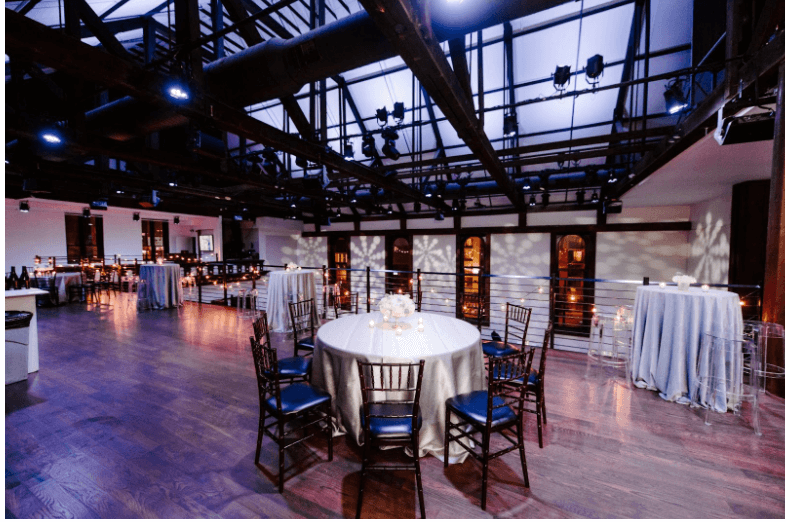 Standing tall in the heart of downtown Nashville, The Bell Tower is a historical gem that has gracefully transitioned into a premier wedding venue. This exquisite setting effortlessly combines the allure of the past with modern elegance, creating an ambiance that is simply unparalleled.
The Bell Tower's magnificent bell tower, a symbol of enduring romance and majesty, is its most notable feature. Its rich history, which dates back to 1874, lends a sense of nostalgia and grandeur to your wedding day. As you exchange vows beneath the historic beams, the bell tower will serenade your union with its gentle chimes.
The venue exudes historic elegance with its ornate details, high ceilings, and hardwood floors. The expansive event space can accommodate both intimate gatherings and larger celebrations, making it a versatile choice for couples with varied guest lists.
The Bell Tower embraces inclusivity, ensuring that every couple feels welcomed and celebrated. It's a reflection of Nashville's vibrant and diverse culture, providing a backdrop where love knows no bounds.
For couples seeking a downtown Nashville wedding venue with a storied past and a touch of opulence, The Bell Tower stands as a timeless choice.
The Cordelle
The Cordelle is an enchanting wedding venue that exudes historic charm and timeless elegance. Housed within a beautifully restored Victorian home, this venue offers couples an exquisite setting that feels like a page from a fairytale.
The standout feature of The Cordelle is undoubtedly its historic mansion setting, which provides an unparalleled backdrop for your wedding day. The mansion's intricate architectural details, including ornate moldings and original hardwood floors, create an atmosphere of romantic opulence.
The Cordelle's verdant gardens, a verdant oasis in the heart of the city, are one of its most beloved features. These gardens provide a tranquil outdoor setting for weddings, cocktail hours, or simply strolling hand-in-hand with your significant other.
The Cordelle's commitment to inclusivity aligns seamlessly with the modern values of Nashville. They provide an accommodating environment for all couples, ensuring that love takes center stage without any limitations.
This historic gem offers a unique blend of indoor and outdoor spaces, making it ideal for couples seeking versatility and elegance. Whether you're planning an intimate gathering or a grand celebration, The Cordelle offers a timeless and romantic ambiance that will make your wedding day truly unforgettable.
Riverwood Mansion
Steeped in Southern charm and antebellum elegance, Riverwood Mansion is a captivating wedding venue nestled in the heart of Nashville. This historic mansion and its sprawling grounds provide a picture-perfect backdrop for couples seeking a wedding day infused with timeless allure.
The standout feature of Riverwood Mansion is its antebellum architecture, which transports couples and their guests to a bygone era of grace and refinement. The mansion's stately columns, grand portico, and lush gardens create an atmosphere of regal beauty that is perfect for a fairytale wedding.
The mansion's expansive grounds offer endless possibilities for outdoor ceremonies, receptions, and photo opportunities. Imagine exchanging your vows beneath a canopy of mature trees, then enjoying a romantic garden reception as the sun sets.
Riverwood Mansion is an enchanting option for couples seeking a wedding venue that captures the South's spirit while offering modern amenities and flexibility.
Comparing the Venues
As you embark on the journey of selecting your ideal Downtown Nashville wedding venue, it's essential to consider your unique vision and preferences. Each of these top five venues, from the industrial-chic allure of The Bridge Building to the historic opulence of The Cordelle and Riverwood Mansion, offers a distinct experience.
For those captivated by panoramic city views, The Bridge Building's rooftop is a standout choice. Meanwhile, The Bell Tower's historic charm and grandeur make it a timeless favorite. The Horton Building's adaptability suits couples seeking a rustic, urban atmosphere, while The Cordelle's lush gardens provide a serene escape. Lastly, Riverwood Mansion enchants with its antebellum elegance.
Ultimately, your choice should align with your style, ensuring your wedding day becomes a personalized, unforgettable experience reflecting your love story.
In the heart of downtown Nashville, these five exceptional wedding venues beckon couples with their unique blend of history, elegance, and versatility. From city skyline views to grand historic mansions and lush gardens, each venue offers a distinct canvas for your love story. 
As you embark on this exciting journey, remember that the perfect venue is the one that resonates with your vision and captures the essence of your love. May your wedding day in downtown Nashville be filled with unforgettable moments and cherished memories.