A wedding is truly that special day that everyone wants to make perfect because they know that it will be remembered for a lifetime. The bride and groom usually spend a long time preparing for this event, because the number of things that need to be taken care of is really large. And that is why there is a chance to forget about the details. One of these points is presentation.
Of course, to make one of these, you will have to spend a lot of time, but here ready-made templates come to the rescue. You will find many of them on the Internet, but we advise you to choose the best ones. MasterBundles is a platform that presents plenty of unique graphic designs. Today's article will be devoted to PowerPoint Templates, which will help in realizing the dream of a wonderful wedding.
How can you use presentations for weddings?
At first glance, it may seem that the presentation is related to the wedding. It seems that dozens of other points should be worked on. But if you think about it, the range of applications is very wide. Here are some options.
With the help of the presentation, you can make a visual plan of the wedding, to better assess the stages of preparation and reveal all the nuances. Also, brides and grooms can use this method already at the wedding itself, for example, to tell the story of their love and show joint photos. In addition, presentations are needed for wedding planners to show examples of their work. And there are still many such options.
We have compiled a short list of details that you should pay attention to when preparing a presentation to avoid mistakes that are unacceptable in this celebration. If you follow them, the final result will pleasantly surprise you.
1.Choose the color range of the presentation to match the style of the wedding. This point is extremely important. If these two points match, the overall result will look professional. Well, of course, if the styles are completely different, then it will be perceived poorly visually.
2.Do not forget about the possibility of making an online invitation. A wedding is often a holiday for which a large number of people gather, and of course, not all of them can be given an invitation personally. In this situation, professional ppt templates in the form of an online invitation will be the most appropriate. This will show guests that you appreciate them and will be happy to see them on the day.
3.Add lots of photos. There is nothing better for a person than to perceive information visually and precisely in the form of a picture. With their help, you can convey much more meaning and emotions than text.
4.Don't make it too simple. It is even better to say not simple, but boring. A few interesting graphic elements will prevent this from happening.
I think that after reading the text above, you have already understood the importance of presentations and are ready to start creating them. But all that awaits you are thousands of options and no understanding of what to choose. To make this process easier, we have made a selection of the 6 best wedding PowerPoint templates for you. Let's see their detailed description.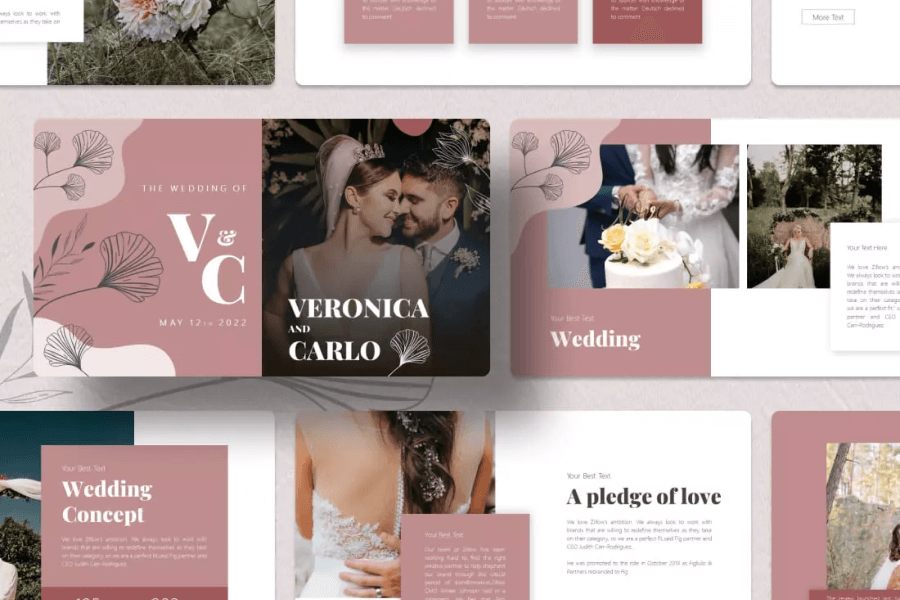 This template is presented in four possible color options so that everyone can choose a suitable option for themselves. It is ideal when you need to combine text and photos in a presentation because the slides are built in this way. All elements are also editable.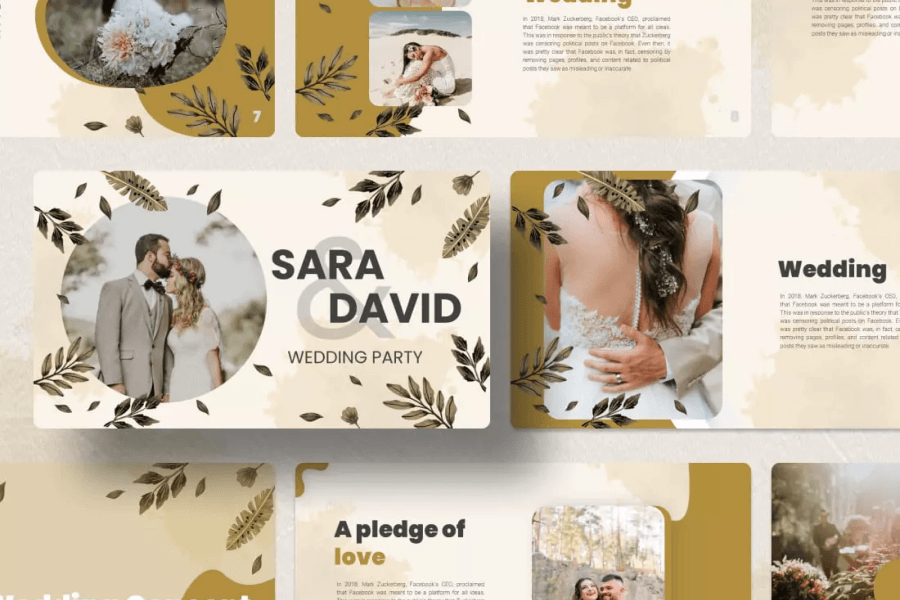 For brides who decide to organize a wedding in autumn, this presentation will be perfect, because thanks to the graphically executed leaves, the vibe of this season is very well conveyed. This template is built so that it can be used both during the preparation of the wedding for the plan and by wedding planners to display their work.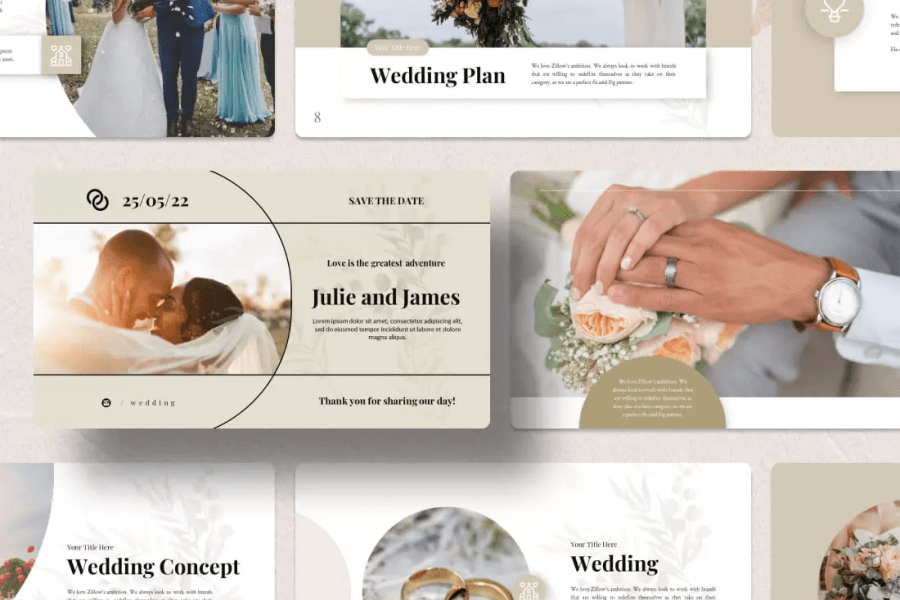 The presentation is built in such a way that you can insert a large number of photos. As for the color scheme, its main principle is to combine one pastel color with another saturated one. You will have access to 50 slides, this amount will allow you to experiment and create a fascinating presentation.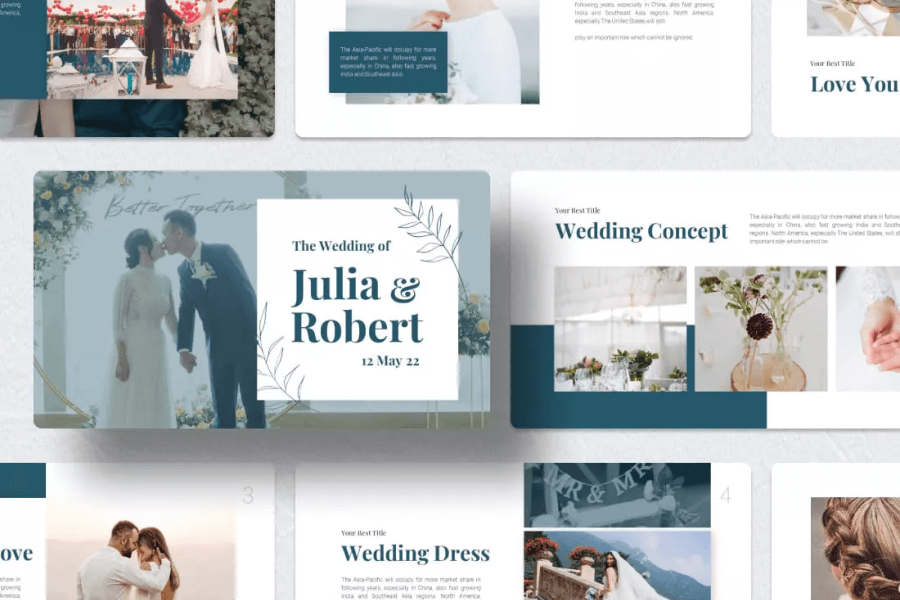 If you are looking for a modern version of the presentation, then this item is for you. There are quite a lot of graphic elements, but despite this, there is also room to add your photos on each slide and make the presentation completely special. The simple font offered in the template will perfectly complement your photos and will not take away too much attention.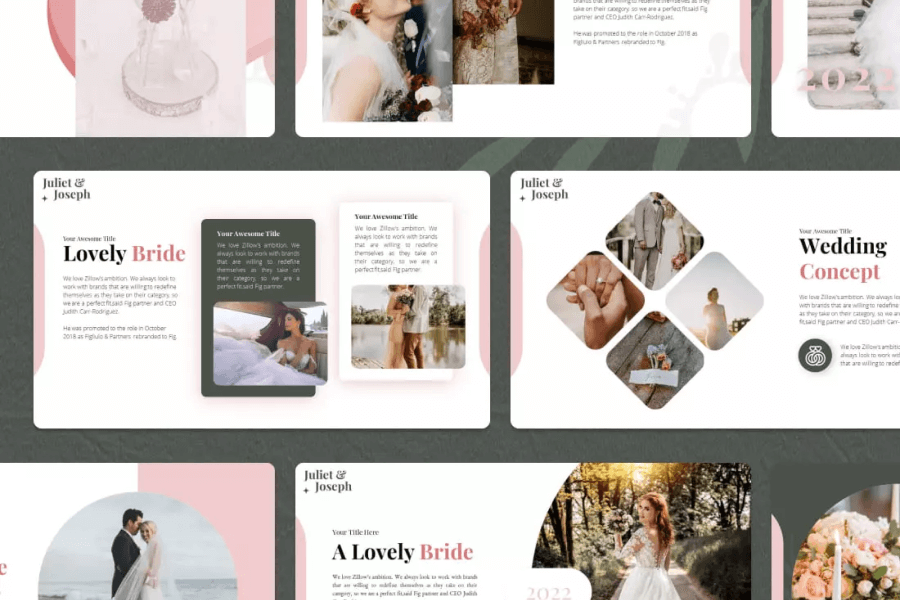 For lovers of minimalism, this template is a godsend. Smooth lines, colors, and shapes provide a stylish but at the same time simple design. There are 4 theme colors for your product and of course the ability to edit. The presentation can be downloaded in three versions: Google Slides, KEY, and PPTX.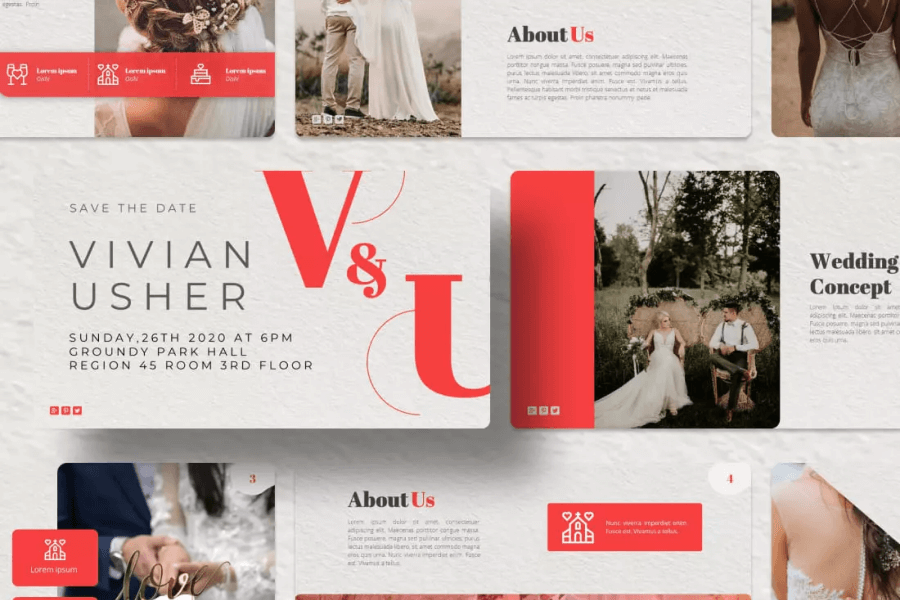 If your wedding is planned in a bright color, then this template will suit you perfectly. Orange, red, green, and blue – any of these colors to choose from. The first page of the presentation is an invitation, on which, by simply replacing the text, you will receive a ready-made document to send to your guests.
Conclusion
A wedding is a holiday during preparation for which you don't want to worry about everything. Ready-made presentation templates will definitely come in handy because all you need is text and a photo and nothing else. Any failures in this matter become excluded. We hope that from the list of different template options that we have offered, you will be able to choose something special for yourself and create an unforgettable wedding visualization that you will look at for a lifetime to remember that wonderful day.